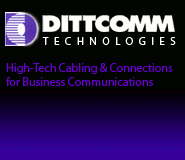 Background
Established February 1st, 1993, Ditto Communications Technologies, Inc. operates as an S Corporation in the state of Texas. With an excellent, direct customer base, DITTCOMM has established relationships with over twenty National Subcontractor Partners.
Services
include providing clients with highly trained technicians from all over the state,
certified
by the industries top manufacturers in communications installation with over one thousand service tickets provided per year.
DITTCOMM's top priority is to ensure the highest level of quality product available today to all clients served and to provide
superior customer satisfaction
on all projects. Today, DITTCOMM continues to maintain a growth rate of 300% amidst hard economic times with annual sales ranging from 1 to 5 million, with service in the four major Metropolitan areas throughout Texas. This also includes an overall company growth rate of 1500% from 1993 to 2000 as well as an Inc. 500 member from 1993 to 1997 with a 795% growth rate.
Philosophy
DITTCOMM's philosophy is based upon four standards: Customer Satisfaction, Quality, Accuracy and Speed. Each standard represents the foundation of DITTCOMM's progress and success.
Management