This page does not display properly without having javascript enabled.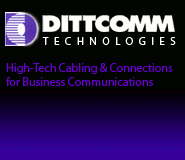 "As project manager representing Cisco Systems, Inc. the entire cabling experience had to be the best I've seen in my 20+ years in the contruction business."
Mitch Owen
President
Tri-Tex Contruction, Inc.
Dear Don,
The purpose of this letter is to thank you and your firm for the cable installation work for the Neiman Marcus Downtown Store in Dallas, Texas. This project presented a difficult challenge due to the age and condition of the facility. It was magnified given the consideration the store's Voice, Data and Point-of -Sale communication systems were required to remain totally responsive to our customers.Your firm was able to respond to the task and provide a product that should prove beneficial to Neiman Marcus for years to come. Again, we appreciate your effort and the results of the cable project.
Sincerely,
W. Jack Martin
Project Manager
Neiman Marcus
March 28, l994
To Whom it Concern,
I have had the opportunity to work with DITTCOMM Technologies for the past 3 years. During this time, as project manager on multi-million dollar projects, DITTCOMM has been a sub contractor for me doing extensive wire, cable, coax and fiber placement along with proper termination procedures. They have also been responsible for detailed testing and record keeping. There performance, in all aspects, has been above average. There understanding of pulling and terminating techniques, copper, coax, and fiber, makes them a very valuable asset on any job.
During the past year, DITTCOMM Technologies Inc., has been contracting work with our BDS/LAN organization. He has proven that his knowledge and understanding of the complex wiring demands is current with the industry standards. It is obvious when working with DITTCOMM Technologies Inc. that quality and customer satisfaction are foremost.
DITTCOMM Technologies Inc. is a company that I'm proud to have represent Southwestern Bell Telephone BDS/LAN organization. Mr. Ditto and his employees are very professional.
I may be contacted at (214) 464-3103 for questions.
J. Mario Sandone
Area Mgr. - Technical Supt. BDS/LAN & Project Mgmt.
Southwestern Bell Telephone
Dear Don,
I would like to express my appreciation for the job well done by your employees for the Nortel Companion Microcell project at St.Paul Medical Center in Dallas. I want to single out Leland Johnson, Reginald Lively, Shawn Vestal and Doug Blumenthal for their hard work and dedication on this project. I enjoyed working with Doug getting this project completed to the satisfaction of the hospital and Southwestern Bell Wireless. This was a difficult project for everyone involved with a long learning curve of the microcell equipment that was installed. This was extenuated with the customer requirements of Southwestern Bell Wireless and St. Paul Medical Center. I am enclosing drawings of the final antenna configuration on a floor by floor basis as well as the final schematic drawing of the system for your future reference.
I hope that your company will be selected on for future Nortel Microcell projects. You may be aware of another local microcell project at Cook's Children Medical Center in Ft. Worth that is in preliminary planning stages right now. I hope your company will be considered for cable installation this project.
Sincerely,
Steven P. Murdoch
RF Systems Engineer
Nortel Networks
Dear Tim,
I want to commend you and your professional, efficient and pleasant staff on the outstanding job you recently completed in our Food Services cottage. It has been a very long time since I have had the pleasure of working with a company who cares about their customers and values their business as much as you obviously do. Everyone we have dealt with at DITTCOMM has been very cooperative and courteous but I would like to recognize Mario Adams in a special way. He was extremely thoughtful and courteous. We would recommend your company to anyone that could use your services. Please feel free to use us as a reference. Thank you for a job well done and in the time frame the work was promised.
Sincerely,
Joanne Heartley, RD.M.Ed
Director of Child Nutrition/Food Services
Burleson ISD Food Services
Dear Don,
I want to take this opportunity to acknowledge the excellent work by DITTCOMM re: the cabling project for Cisco Systems at 14875 Landmark Blvd., Dallas Tx. As project manager representing Cisco, the entire cabling experience had to be the best I've witnessed in my 20+ years in the construction business. Your technical knowledge of the system requirements and value engineering suggestions were invaluable in providing Cisco with a state of the art cable system at a very competitive price.
Additionally, I want to complement Dan Grant and Chad Satterfield on a job well done in the field. Both of these individuals are absolute professionals and were eager to assist me in answering my questions and facilitating all the changes that frequently occur on projects of this scope.
Rest assured that DITTCOMM will be my first call whenever I have future cabling needs.
Sincerely,
Mitch Owen
Vice President
Fults Realty Corporation
Don,
My name is Blaine Thomas and I work for Bell at 15600 Midway Rd. I have only been with the company for three years but understand the importance of maintaining working relationships with our contractors. I truly appreciate the work you company does for us. It enables our company to provide professional service to our customers. It also ensures that a quality job will get done.
Thank you for the jobs well done. More importantly, I write to you today to praise the work of Arthur Kelly. He is an outstanding worker who always shows up on time with a smile on his face. No job is too difficult or impossible for him to accomplish. His work is always professional, and stands out from the rest. If anyone deserves an easy job once in a while, it is him.
My dream is to own my own company and be my own boss like yourself someday. I only hope to have employees who exhibit the attitude and professionalism that your employees, especially Arthur, do. Once again, thanks for the good work and thank you for your time.
Sincerely,
Blaine Thomas
Southwestern Bell
Dear Ms. Johnson,
Early in June I scheduled a phone system move for July 1, l999. Before the move, Bobbie Brock called me to let me know that DITTCOMM Tech, Inc. would be providing the service technicians for the move. I appreciate the fact that Bobbie called to inform me, before the move, that the technicians would be subcontractors for SWB. Later a conference call from Bobbie and Chris Griego confirmed the fact that DITTCOMM would be moving our phone system and that Chris wanted to come and see the layout of the suite to which we were moving. I was impressed with the fact that the Service Manager would take the time to come to our office before the move. Chris was very polite and familiar with our system.
The day of the move, Dale Walker, arrived EARLY. This was quite a shock. Very rarely do service technicians arrive early. Dale was polite, very respectful, and knowledgeable. During the day, Dale worked continuously, even though we were moving furniture, machinery, and supplies between the two suites and occasionally we would be in his way. Later in the day, Troy Satterfield arrived to help Dale with the move and Chris came by to check on the progress of the move. Between Dale and Troy, the move seemed to go reasonably smooth. They did have to pull a couple of additional cables because the "old cables" were not appropriate for our system and, of course, our office staff had a couple "last minute" change of plans when it came to exactly where they wanted their phones placed. All in all I feel that Dale and Troy did an outstanding job.
I have never had the pleasure of working with such a proficient, outstanding, and courteous crew of service technicians. I am sure that in the future we will have MAC's and I hope that if one of your service technicians is not available, then you would elect to send one of the above mentioned service technicians from DITTCOMM.
Sincerely,
Audrey Raesz
Office Manager
Southwestern Bell