This page does not display properly without having javascript enabled.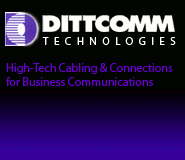 DITTCOMM featured in Cabling Business Magazine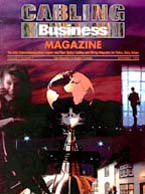 NMAC Nissan Motors Acceptance Corporation

Recently we were alerted to the completion of a new Category 5 installation at Nissan Motors Acceptance Corporation (NMAC), and decided to take a look. After being graciously hosted by the project team through a tour of the facility, we thought that our readers might be interested in seeing what can be accomplished under sometimes less than ideal circumstances. The following was provided to us by the project team...I hope you enjoy it.

When planning a Category 5 conversion cabling project, especially one of significant size, proper administration and planning can make the results extremely rewarding to both the end user and the service provider. This was visibly evident during the recently completed change-over from Category 3 cabling at the Nissan Motor Acceptance Corporation (NMAC) facilities in Irving, Texas.

As a service provider, we are responsible for educating customers not only on products, but also on applications, technology and value.

Costly downtime from an old network had been affecting nearly 1,000 NMAC users in two buildings. The company wanted a reliable, high-performance cabling system to meet today's and the future needs of the Local Area Networks (LANs) and Wide Area Network (WANs. After extensive evaluation and analysis, NMAC produced a voluminous Request For Proposal (RFP).

When DITTCOMM Technologies, Inc. received the RFP, the data and voice cabling portion comprised only 10 pages. Clearly, to condense the proposal to so few pages, the MIS group at NMAC had done its homework. Putting together the winning proposal was an arduous process, but it allowed DITTCOMM to begin planning the logistics of the installation. The existing cabling system had only three closets: two serving building A and one serving building B. A fiber optic backbone cable connected the buildings. All horizontal cables consisted of mostly Category 3 cable with runs far in excess of the EIA/TIA standard of 295 feet. NMAC had no cable management system for patching within the wiring closets.

With 700 offices in building A and 300 in building B, the redesign required very careful consideration. To bring NMAC to full compliance with EIA/TIA standards, additional wiring closets had to be created. NMAC allocated four new closets in building A and two new closets in B. This resulted in a total of six wiring closets, two on the third floor, two on the second floor and one on the first floor. To offset long cable runs, the main computer room was to be linked with an additional intermediate cross connect.

In keeping with the EIA/TIA recommended minimum standard of one telecommunications closet per floor, building B was designed with two closets on the second floor and one on the first floor. NMAC was certain that by adding these additional closets, EIA/TIA distance limitations would not be exceeded.

NMAC decided to create these additional closets for data LAN services only. The projected expansion would not include voice locations. The new installation would not interfere with existing voice systems, which were not included in the re-cabling project. This reflects back to an article in Cabling Business Magazine (June 1995) entitled, "Do You Know What You Have?" The NMAC/MIS Group knew what they had, and, more importantly, knew what they wanted.

An admirable decision was made with the establishment of the new closets. Everything in the new project, from start to finish, was new, including cores, backboards, cable trays, electrical outlets and ground connections. All closets were planned to be as similar in design and placement as possible. NMAC currently secures their data closets by locking them and only admitting authorized personnel. The completed structured cabling system has been 100 percent Category 5 certified and carries a 15-year warranty on all passive components supplied and/or installed, including Ortronic's terminating equipment (jacks and panels) and Berk-Tek Category 5 cable. The AT&T fiber optic cable and ST connectors, along with the cable tray system carries a two-year warranty from DITTCOMM. Viewed from end-to-end, the new system is very user friendly and 100 percent Category 5 from patch cord to line cord. This installation is comprised of AT&T optical fiber and connectors, Berk-Tek Category 5 UTP (100 ohm, 24 AWG, four pair) cabling, and Ortronics terminating and connecting hardware in all telecommunications spaces. (See photographs.) DITTCOMM is a certified installer for Ortronics equipment as well as many others.

The complete system installation included the following detail documentation:
* Category 5 test results of each individual cable run
* As-built prints of the cable tray system
* CAD drawings of each individual wiring closet layout
* Patch panel termination diagrams, front and rear views
* Fiber backbone as-built diagrams
* Fiber loss worksheet on all ST connectors
* Category 5 summary reports
* Specification sheets for every component installed on the project

This project began with a customer, who had many data problems, and a service provider determined to provide a real solution. Eight to 12 employees worked full-time on the project and developed tremendous teamwork, excitement of accomplishment and a commitment to perform top quality. The effort was jointly steered by a carefully selected project management task force.

Even with the out-of-hours operations, daily reports were closely monitored and activities were coordinated smoothly, in spite of several unforeseen obstacles.

The following requirements had to be met on the 90-day project that kicked off on February 19, 1995. Completed phased cut-over was scheduled for May 19, l995:
* Approximately 1,000 end users
* 243,000 feet of Category 5 cable installed
* 3,000 feet of cable tray installed
* 6,000 feet of fiber optic cable installed (15 runs of 12-strand cable, in innerduct)
* Approximately four tons of existing cable was removed from the ceilings and closets

Users were phased over each night with no downtime. The success of this effort cannot be attributed to anything other than teamwork, dedication, commitment to quality customer service, project management performance and standards, and suppliers who could meet their commitments.
Every service provider should strive to keep structured cabling systems current with available standards. This can be accomplished simply by assisting and supporting customers from end to end with the choice of an organized, aesthetically pleasing and 100 percent tested structured cabling system.

The importance of continued employee training should never be overlooked. Service providers must be aware and trained on the ever changing technological standards required to take on a task of this complexity. Always observe applicable codes, standards, ordinances and regulations, work safely, assure quality and you will always have the right formula to create lasting impressions with your customers. Also, be sure that your customers remain on the edge of technology in this fast-paced, growing field of communications. Keeping yourself and your customers up to date will assure a long and mutually beneficial and rewarding relationship.