This page does not display properly without having javascript enabled.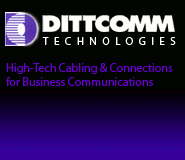 DITTCOMM: ready to expand cabling services to other states
by Lisa M. Whitley, Staff Writer

GRAND PRAIRIE - Competition is stiff in the high-tech cabling and connections business, said Don Ditto, president of DITTCOMM Technologies Inc.

When companies want to add another computer or telephone onto their networks, they call on the services of cabling companies like DITTCOMM, he said.

The company also runs fiber optics and coaxial cables for videoconferencing. Today, with fiber optics and coaxial cables, there's more involved than dealing with the little red, yellow, black and green wires.

The cables running around your home and office go through several committees to assure proper standards before installers ever see them, he said.

Scott Black, DITTCOMM's San Antonio office manager, Ditto and his wife, Kristen, were the company's first employees when they opened the doors in a 500-square-foot office park space back in 1993.

Today the Grand Prairie company is on its fourth location and is up to 10,000 square feet. It now employs 50 people and has branch offices in San Antonio, Austin and Houston. Last year, DITTCOMM ranked No. 50 on the Fast Tech 50 list, with 33.3% growth. This year, the company ranks No. 27 and revenues grew by 50% from 1996 to 1997. "When we opened, I set a five-year plan and I blew out 90% of those goals within three years," Ditto said. "We're maxed out here in Texas. We're going to branch out into other states within the next two years." Future growth will be guided by the company's philosophy which in instilled in each employee. "Other companies say, "Time is money,'" he said.

"Our first priority is customer satisfaction...The last thing on your mind should be speed. The order should be customer satisfaction, quality, accuracy and then speed. Speed is an issue in our business but it should be last and not the priority. When you get in a hurry, you mess things up and that costs your customers lost time and revenue."

He believes another key to his success has been a rapid response time to customers calls and a professional appearance in vehicles and employee apparel.

Their response time is by 5 p.m. or within four business hours of the call depending on the time the request was made. Ditto is also focusing on keeping employee turnover to a bare minimum. He hasn't done any hiring or layoffs in the last six months. Instead, the concentration has been on making his current staff better, faster and more productive. He does plan to begin hiring again in the near future, he added. "Further growth is tied to remaining on the cutting edge of technology. "We need to know what your needs are before you do," Ditto said. "We have to be trained one day ahead of the things that you're hearing about." All of this innovative technology can be costly.

"We're probably one of the higher-priced companies around," he said. "I spend a lot of money on training and equipment. That makes my guys more valuable which means I have to pay them more. Yes, we have to be competitive. My mindset is not necessarily to underbid but to bid to make money and to be able to service these customers for a lifetime."