This page does not display properly without having javascript enabled.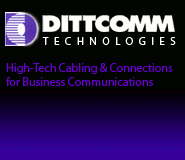 Careful Controls Make For Cost Savings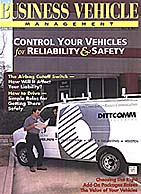 DITTCOMM Technologies gets reliability and safety by keeping careful track of its 16 vehicles. By Paul Dexler

When Don Ditto started DITTCOMM Technologies roughly 10 years ago, he knew that his vehicles were going to be the lifeblood of his communication system installation business.

Headquartered in Grand Prairie, TX just outside Dallas, the company has grown from one van to 16 customized Chevrolet Astro vans. Four of the vans are located at the company branch in Austin, about 200 miles away, another four are at the San Antonio branch, about 250 miles away. The rest are at the Dallas headquarters.

Ditto has settled on using the Astro vans because of the excellent service they provide. He also finds that the broad sides of the minivans make excellent rolling billboards for his company.

"Of the different types of advertising we do, the signage on the vans is one of the best," he remarked. One reason the vans give him such excellent service is the rigorous system of checks and inspections he maintains on them.

"Nine of our vans are '97s," says Ditto. "Three are '95s, two are '90s, one is a '93 and we have one 1988 model. We actually started out five years ago buying used vans, but now we're at the point where we're getting rid of the old ones as soon as we can and going to brand new ones."

Ditto added that he purchases all his vans through one dealer, Classic Chevrolet in Dallas, TX. He originally went to that dealership for price considerations, but stayed because they also provide the service he needs. Classic Chevrolet participates in the General Motors Business Vehicle Services program, so Ditto can order his vans complete with the custom upfitting he needs for his business.

"They've worked well with me," Ditto says, "There are certain people and organizations who have been a great part of our company's success, and Classic Chevrolet is one of them." Ditto goes on, "I tell them that I want the van outfitted with the racks on the top, the bulkhead behind the seats, a shelf, a file box in the front for organizing papers. They install all four of those items before I pick up the van."

Upfitting Help
He noted that before he found out about the Business Vehicle Services program, he had to install the upfit items himself, at considerable expense in money and time. "The vans I put together myself, I ended up spending about $1,500 per van to put the ladder racks on top-those are about $300, the file box is about $200, the shelf is about $200, the bulkhead is about $300, and you figure all that and the time and labor to put it in, you're going to end up spending about $1,500."

Ditto added that he purchases an extended warranty with each of his new vans, so that service is always taken care of. There have been few problems with the vehicles in the course of his ownership of them, but he believes in being prepared. "It's pretty convenient," he says. "You just pull up to the service drive and they take care of it." Ditto noted that he purchases his vehicles rather than leasing them. He finances through a local bank or GMAC. He says that of his 16 vans, he owns everything from the '95s on down free and clear. Six of the '97s are financed by Bank One and three of them are with GMAC. He indicated that at this time, leasing is not a viable option for his company.

"Leasing is not an asset for me while I'm trying to build the net worth of the company," he adds. If he buys the vans, they go into the asset column, but if he leases them, they become a write-off.

"To me, there are two benefits," he explained "The way we're growing this company, it's better now for us to take the buy option. As we grow further, we'll probably take the lease option," Ditto concluded.

Maintenance Is The Key
Keeping a rigorous maintenance schedule is part of Dittcom's vehicle management strategy. Ditto says his company is not big enough to warrant having anyone with the title of vehicle manager, but his shop foreman maintains what Ditto calls a Van Inspection Log Book on each vehicle. The drivers themselves are responsible for maintenance on the vehicles, but everything has to be logged into the book. Ditto uses custom forms he makes in his office computer that contain all the information. Ditto says that each van has a binder with 52 sheets, one for each week of the year. "The drivers cannot skip anything in the log books," he explains.

Every Monday, each of the company's vans gets an inspection. Not only that, each driver has to read and agree to a written company vehicle policy that covers in detail how the vehicle is to be maintained. The log book binder has a check list, which includes all items, starting with tire pressures, including the spare. "Then I ask them to check radiator water, oil, brake fluid and transmission fluid," Ditto says. (The list includes all the areas of normal vehicle maintenance.) "The drivers have to put their initials alongside each item to make sure they've checked it," he explains.

He has an added column at the side for additional comments. As an example, if the tire pressure is 25 psi, and the recommended pressure is 30 or 32 psi, he insists that the drivers write it down, and then he makes sure they maintain the correct pressure. This also aids in catching slow leaks that might otherwise be ignored.

"These guys sometimes don't catch things," he says, "because they want to get out and get onto the jobs." The catch is, he has always had his technicians make excuses in the past. To prevent this, there is also an area on the checklist for "problem/solution," which tells the driver where to take the van to have the problem corrected.

No Room For Excuses
All the DITTCOMM drivers know the company has an account at a Texaco station about two blocks from the headquarters office. The company also has an account at each branch. There are company Texaco cards in each vehicle so the drivers must take the vans there for fuel and simple problems. The information is also in the company vehicle policy, which drivers have to sign. "I don't give these guys any room for excuses," says Ditto. "They have to put their initials beside every item. They can't come to me and say 'My lights are out; what do I do?' They get it fixed and sign it off when it's done."

On the form, drivers also have to initial that all the equipment in the van is accounted for. Ditto says he leaves them no room for excuses. Every time they fill out the form, they have to enter the make and model of the van, mileage, date, and other specific information. The shop foreman goes through the logs once a week and checks them to make sure there are no problems. According to Ditto this really does not take a lot of time. "Believe me," he says, "I'm not a person who wants to lose money. The time it takes to do this actually saves me money, because one or two major problems would cost more than all the time it takes to do the check list, which is actually minimal."

The DITTCOMM vans pile up about 15,000 miles per year. Ditto says it seems as if there are more miles on them, "because my philosophy is that if there is a van sitting here, we're losing money. I like to see them out on the road and working." While most of his vans are permanently assigned to drivers, two vans are in a pool for five of his technicians who may not have to drive every day. He runs driving record checks on every employee who might get behind the wheel of a company vehicle. "They have to have a solid clean record to drive our vans," he says. This goes hand in hand with the large amount of insurance he has to carry on his vehicles. DITTCOMM is a major subcontractor for Southwestern Bell, and as such is required to have a million-dollar-per-occurrence umbrella policy on each van just to be allowed on a job site. Ditto is thing about retiring the '95 and earlier model vans. "They're in excellent condition, and we probably could get a real nice dollar for them. Then I could go in and buy some new ones and not have to pay a lot of difference."