This page does not display properly without having javascript enabled.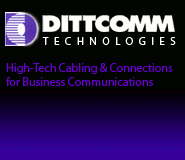 Experience, reputation help Grand Prairie firm gain national recognition for growth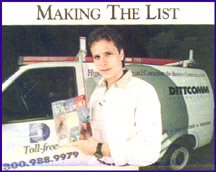 by Kevin J. Shay, staff writer of the Arlington Morning News

Since starting DITTCOMM Technologies, Incorporated five years ago, Don Ditto has seen his company grow immensely.

From 1993 to 1997, sales increase at the firm—which installs telecommunications equipment—by 771 percent, from $247,000 to $2.15 million.
MAKING THE LIST
Experience, reputation help GP firm gain national recognition for growth
By Kevin J. Shay, staff writer of the Arlington Morning News

Grand Prairie- Since starting Ditto Communications Technologies Inc. five years ago, Don Ditto has seen his company grow immensely.

From 1993 to 1997, sales increased at the firm - which installs telecommunications equipment - by 771 percent, from $247,000 to $2.15 million.

In that same period, the number of employees more than doubled - from 23 to 50 - and three new branches were added in Austin, San Antonio and Houston.

And such growth has occurred without the aid of a marketing and sales staff, said Mr. Ditto, an Arlington resident. "We've relied strictly on word-of-mouth referrals so far," he said. "We do plan to look at developing a marketing and sales staff in the next five years."

Ditto Communications, which also goes by the trademarked name of DITTCOMM Technologies, was the first Grand Prairie company to make Inc. magazine's annual list of the 500 fastest-growing private firms in the country since 1996 - and only the fourth in the list's 17-year existence.

Ditto Communications installs business phone systems and fiber-optic cables for small businesses and government entities across the state. Some clients are Southwestern Bell Telephone Co., Dell Computers, the Arlington school district, Cisco Systems Inc. and Nissan.

The Inc. issue, which ranks firms based on their revenue growth rates from 1993 until 1997, hits newsstands Tuesday. "It is quite a distinction to get on the list", said Charlene Niles, manager of the list for Boston-based Inc. For Genesee Stampings Inc., a Grand Prairie manufacturer of stamped metal parts, making the list in 1984 was a "feather in the cap" that salespeople could use to help land new clients, said Bob Geiss, operations manager for the 18-year old company.

Genesee was actually in Arlington when it make the Inc. list and moved to a larger facility in Grand Prairie four years ago as the 80-employee firm's growth pattern continued.

"It was certainly an honor," Mr. Geiss said. "We were just starting out then and growing fast. We've grown much larger since then, but our business growth has stabilized in recent years."

Ditto Communications' phenomenal growth in its first five years can be largely attributed to Mr. Ditto's prior experience in the fast-changing telecommunications industry, retaining key employees and its training and certification system. Before branching out on his own, Mr. Ditto 29, managed telecommunications installation projects at some of the Arlington-D/FW area's largest developments. Those included Alliance Airport and the J.C. Penney Co. headquarters in Frisco. He also worked for three years at NTI, a large Irving based telecommunications company.

"I learned this business from the ground up and developed a lot of contacts," Mr. Ditto said. At least eight employees hired in the firm's initial year are still with the company, he said. "One who was with me from the beginning now runs our San Antonio branch. Another runs the Austin branch," Mr. Ditto said. "A big part of our success has been to retain key people who have built up good relationships and know our philosophy." He also estimated he spends more than $25,000 annually on training and recertification.

Another key ingredient is pure hard work, said his wife, Kristin Ditto. She started working full time for the company as treasurer and corporate secretary after earning a bachelor's degree from the University of Texas at Arlington in 1995. "I knew Don's capabilities," she said. "He worked for previous telecommunications companies before....But in those first couple years, he worked practically 24 hours a day, seven days a week."

After almost three years of continuous 16-hour days, Mr. Ditto said he has cut it down to 12-hour days, five to six days a week. "I do a lot of exercising, which helps keep my stress level down," he said.

The company started in a different part of the Great Southwest Industrial Park and moved to a 10,000-square foot office at 1340 Post & Paddock Lane, just east of State Highway 360, also known as Angus G. Wynne Jr. Freeway, about 18 months ago. Mr. Ditto said he wants to see sustained growth in the near future, adding that he expects this year's revenues to top 1997's numbers.

"We want to grow, but we can't sacrifice customer satisfaction and quality," he said. Ditto ranked 395 on this year's list. The last Grand Prairie company to make it, Vektron International, a computer distributor, was 227 in 1996.

This year, D&D Recycling, 1201 N. Watson in Arlington, was the top-ranked Tarrant County company on the list at 143. Arlington also had a representative - Recore Inc., which supplies wholesale automotive parts - in 1997. D&D saw revenues rise 1,734 percent from $212,000 in 1993 to $3.89 million in 1997. During the same time, the number of employees increased from three to 60.

The top-ranked Arlington-D/FW area company this year was Irving-based NexCycle Inc., a recycling processor, which was third. The company reported revenue growth of about 14,000 percent in the previous five years, from $205,000 to $28.9 million. California had the most companies on the list with 83, followed by Texas (44), Massachusetts (31), Virginia (26) and New York (24).